Watercraft Rentals
Cracker Creek offers several types of personal boating options including tandem kayaks, single kayaks and canoes which allow an up close view of the landscape and wildlife.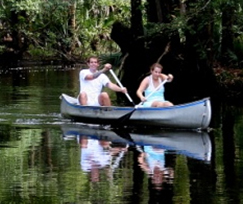 Canoes
We offer 17ft Michicraft aluminum canoes which are designed with 2 fixed bench seats, but can accommodate an additional adult or 2 small children seated in the center of the canoe. We provide paddles and safety gear.
Rental Rates
1 Hour: $28
2 Hours: $36
Half Day: $60
Full Day: $70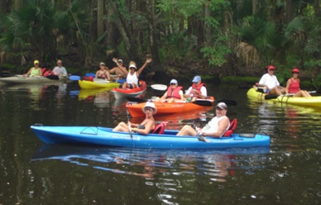 Kayaks
Try our 10ft and 14ft Wilderness brand sit-inside kayaks, ideally suited to the slow moving waterway of Spruce Creek. Paddlers enjoy comfortable seating with padded leg and back support. We provide paddles and necessary safety gear.
Rental Rates
1 Hour: $20 single | $28 tandem
2 Hours: $28 single | $36 tandem
Half Day: $40 single | $60 tandem
Full Day: $50 single | $70 tandem